Green Umbrella Equipment Statement
"Cutting the Cord for a Wet Cut."
Green Umbrella equipment has been engineered or selected to achieve our mission to cut labor, cut downtime and reduce environmental impact. Our flagship concrete grinder, the StoneXtreme, is capable of producing the largest number of completed square feet per abrasive, per hour, in the entire grinding equipment industry.
Green Grinders are designed with optimal head pressure, maximizing the use of durable, heavy construction and powerful propane-powered engines to generate the needed combination of weight and RPM through any phase of concrete processing. A propane-powered grinder is optimal for a wet cut process, preserving environmental air quality while maximizing concrete surface refinement and enhancing abrasive tooling life.
Green Grinders are known for consistent performance on a variety of concrete mix designs with their resultant concrete surfaces anywhere in the world. Contractor-friendly designs promote less downtime with rugged, durable design with practical maintenance and tooling change engineering.  
Alternative Energy Powered Equipment
Zero issues to cut wet or polish dry. One machine does it all.
Hidden costs savings are promoted:
No costly draw on electrical power as with 3-Phase electrical equipment.
No hazardous dust introduced into ventilation ducts, eliminating potential remediation expense to protect the health of future occupants.
A few years after concrete polishing was introduced to the North American marketplace using traditional European electric grinders, Green Umbrella thoroughly examined the process and chose to promote a wet cut safely, pioneering the use of safe, cordless, propane-powered equipment. At the time, some within the industry thought the use of heavy-duty equipment was a novelty. Today, the use of propane is no longer viewed as a novelty but has virtually become a necessity to comply with Indoor Air Quality (IAQ standards) mandated by regulatory agencies (OSHA) during the grinding process 
Propane equipment uniquely meets LEED maintenance equipment requirements. Our Green Grinder, StoneXtreme and Green Edger process the entire floor with uniformity, similar head pressure on each abrasive, the same abrasive matrix processing the center of a floor as the edge. The results of consistency in equipment and abrasives being the same profile, the same refinement up to within ¼ inch of walls, even underneath grocery store kick plates!
So productive some want to call a foul!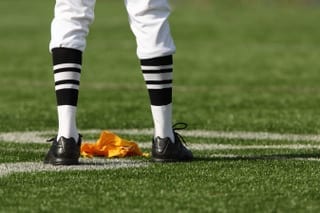 The use of propane-powered equipment increases productivity and reduces hidden expenses.
Productivity is increased by:
Eliminating the time needed to establish and connect 3-phase power required by electric machines.
Optimizing availability, using ever-ready propane power that is never dependent on a specific stage of construction or downed by severe weather.
Powerful propane engines cut through the toughest concrete and polish at higher RPMs for a better final surface.
Bonded Abrasives.
Green Umbrella controls the abrasive matrix of all our cutting abrasives, eliminating the inconsistencies found on building projects common in the industry; control eliminates the frustration of not getting the same "look" when specifying the same grit. We know what our abrasive can achieve under the weight and with the variable RPM of our propane-fueled equipment.
Liquid Mechanical process Principle
Fewest Bonded Abrasive cuts